Demystifying the Marketing Technology Stack
It's an epic understatement to say that the marketing technology landscape has grown fast recently. If you're part of this crazy world you would have undoubtably crossed paths with Scott Brinker from ChiefMartec.com and their yearly "Marketing Technology Landscape Supergraphic".
Over the years this has seemed like a never ending cascade of new technology and along with that comes with the marketers challenge of keeping up with the changes.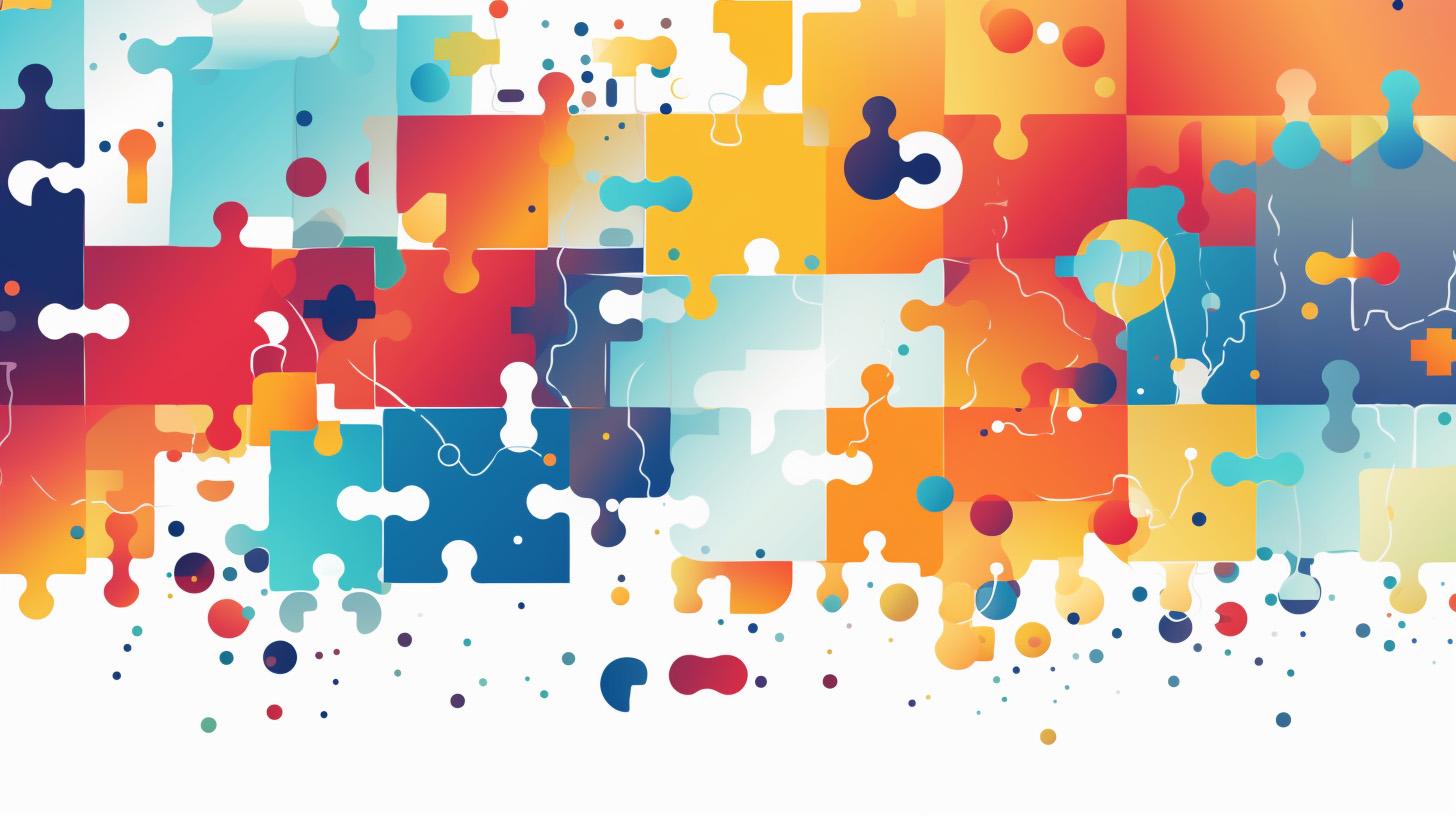 Below is a short breakdown of the results over the years. Note that a few years are missing and while this is a good representation of the industry, as Scott notes in one of his posts:
"there is a limit to how much time is reasonable to invest in producing this. One could argue that I should have hit that limit several editions ago. But this year, having 9 people working on it for 3-4 months was as much as even I could justify (or afford).

Yet we know there's a ton more marketing technology solutions out there."
So bear that in mind and use this as a helpful overview:
2011: ChiefMartec.com first wrote about the rise of the marketing tech. The landscape at that time contained around 150 different platforms.

2012: The industry grew to 350 platforms, an increase of 200. which represents a growth rate of approximately 133%.

2014: The industry then grew to 947 in 2014, an increase of 597 units. This is a growth rate of approximately 171%. It's worth noting this was around 16 months of data.

2015: In the following year, the industry grew to 1876 platforms, an increase of 929 and a growth rate of approximately 98%.

2016: This year it grew again to 3874 units, an increase of 1998 and a growth rate of approximately 106%.

2017: This was the first year that signalled a slowing down but still it grew to 5381 units, an increase of 1507 and a growth rate of approximately 39%.

2018: It became clearer that things couldn't continue at the rates seen previously but it still grew to 6829, an increase of 1448 and a growth rate of approximately 27%.

2019: This was the year that confirmed to most that things may have plateaued with a small increase of 3% to 7040 units.

2020: It's unlikely I have to explain why, but the end of 2019 and 2020 saw changes in every aspect of life. With most people just figuring out how to cope being locked indoors, it's probably no surprise the SaaS industry grew. This was reflected to a degree for martech but not at the scale we've seen before. 2020 saw an increas to 8000 platforms, an increase of 960 units at a growth rate of approximately 14%.

2022: Skipping forward 2 years, the industry grew to 9932 units, an increase of 1932 and a growth rate of approximately 24%. This data covers 24 months which keeps it roughly in line with the trends.

2023: This all brings us to 2023. The industry is still growing and while the growth rate is lower than the early years, this is still a considerable number of new players. We currently sit at 11038 platforms. An increase of 1106 at around an 11% growth rate.
It perhaps comes as no surprise that the martech landscape grew yet again, for the 12th consecutive year in a row. While the rate of overall growth slowed down over the last few years I wouldn't be surprised to see the growth rate move higher again with the AI phenomenon seeing thousands of new applications hitting the market. The question then remains; Have we hit market maturity or will this new machine learning era continue to push the landscape?
If you want to dig into the thousands of platforms compiled by Scott and the team at ChiefMartec.com, take a look at their phenomenal interactive site: MarTechMap.com. It's slightly easier than trying to go through the infographic!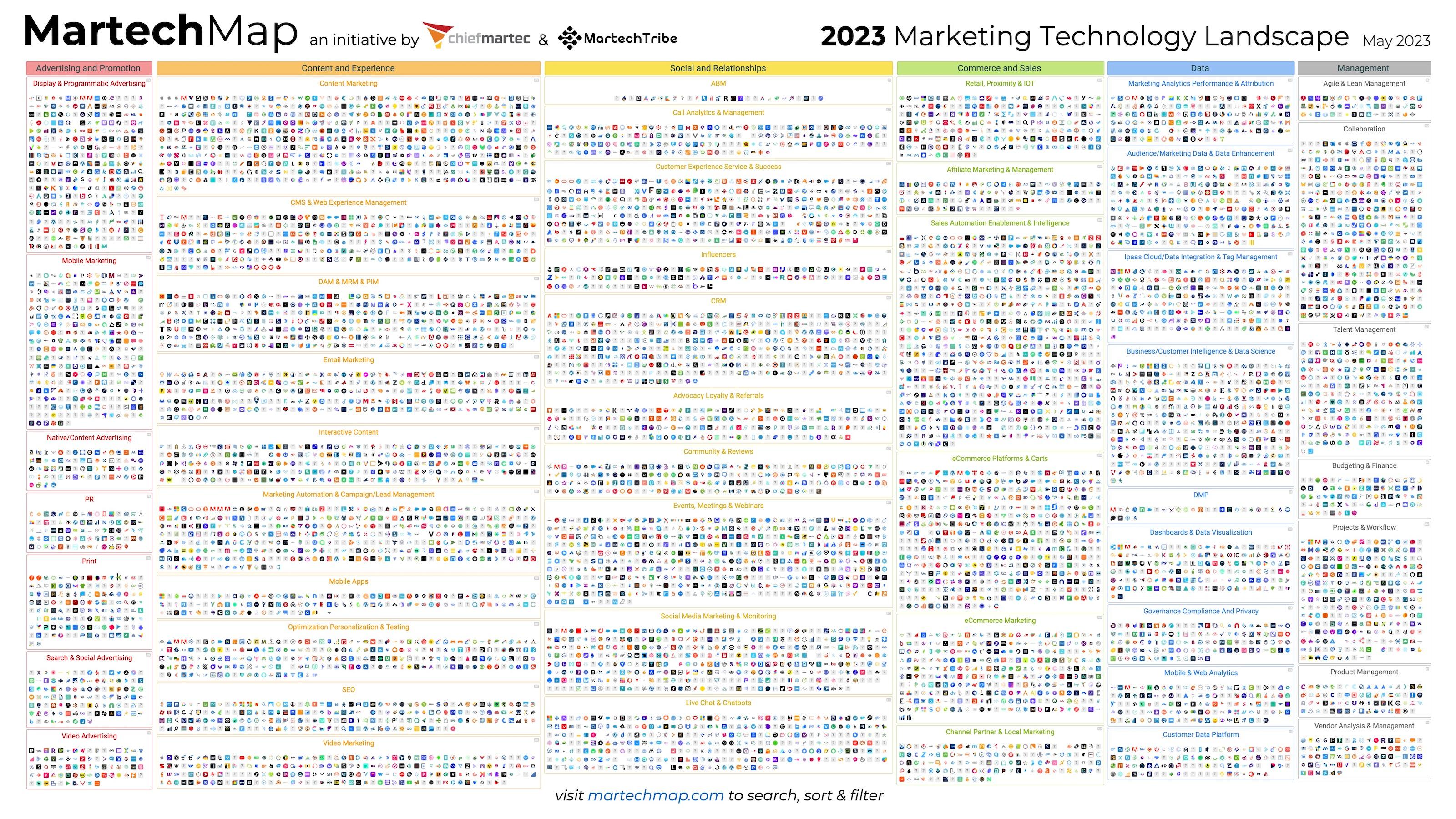 With so many tools available to marketers that promise to streamline processes, automate tasks, and ultimately help businesses achieve their marketing goals, the challenge lies in selecting and optimising them effectively to create a powerful, cohesive marketing technology stack.
Of course if it were as simple as that you probably wouldn't be reading this. It is clearly very overwhelming but there are best practices that can help organisations get the most out of a seemingly complicated system.
Rather than trying to constantly find the newest and greatest tool to use, it's always best to optimise your current stack. Before that, it's good to take a look at the different elements of a standard marketing tech stack to ensure we are setup correctly. More to come on that in the next tech stack article.